VR Park Dubai happened after the closure of Sega Repulic Dubai. It was successfully launched on 1st March 2018, VR Park Dubai has a close partnership with VR headset StarVR, as many as half of the VR experiences use this device. The park is developed and managed by Emaar Entertainment. The size of the area is huge - 7000 square meters with two dozen VR and AR games.
During the time of the launch, VR Park Dubai claimed to be the world's largest indoor, virtual reality park. VR Park has a crazy entrance - The grand entrance showcases an inverted image of the view of Dubai from the top of the Burj Khalifa which is the tallest building in the world which does a great job of bringing in the crowd that has just left the cinemas or visited the edutainment city of KidZania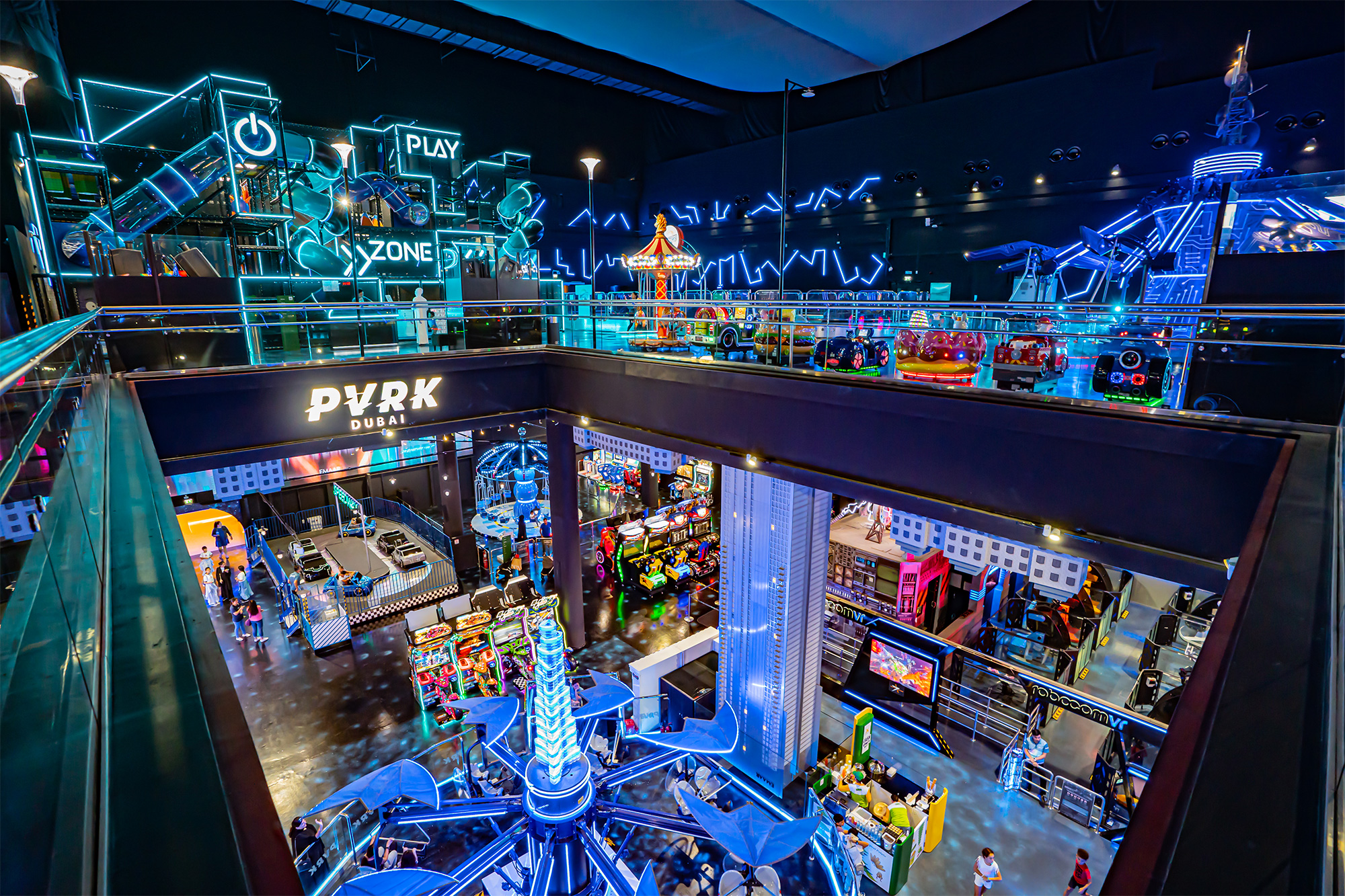 What Does VR Park have to offer?
VR Park combines augmented and virtual reality to offer one of the most immersive VR in the middle east. All age group is free to explore and enter the park. You can play various games, compete with the computer or play against each other. It really feels like you are fighting against an alien invasion or skiing in the snowy mountains of Austria. Talking about the thrill, you can even experience the thrill of being propelled down the side of the world's tallest building, Burj Khalifa and you can witness a dune-driving experience, right from the park.
Here's the list of crazy VR experiences in the Park:
(1) Dune Bash
A UAE desert 4WD experience like no other. Climb on board this futuristic jeep on a hair raising journey encounter Camel Spiders, Scorpios, and other nasties along the way
(2) Stealth
How stealth are you? Be the captain of your own experience by having steering control of your own flight in the thrilling, Self-directed ride!
(3) Cozmo Jet
You might not be able to befriend aliens on this journey because you've got to save the world from them.
(4) Magic Bikes
Pedal your way through the clouds on this unique glider themed vehicle. It's truly as magical as it sounds.
(5) Flying Chairs
Take a seat and get ready to soar high in this classic swing ride for the little one
(6) Speed Way
Hope in a two-seater race car that runs on the oval track. Buckle up for a crazy speedy ride with the whole family
(7) Drifters
Challenge your friends or family to try out the regions first drifting bumpers car
(8) Active Zone
Get ready for an action package time with this all-new active zone which features 4 difference that integrates AR into its gameplay to keep you on your toes
(9) VR Sports
For the ultimate sports enthusiast and the competition within, Test your skills in a number of sporting events, From tennis to football, Golf and Basket Ball, To boxing and hockey
(10) Dubai Drone
Set in the future, experience traffic in the clouds as 'Drone Taxis' take over the Dubai skies in 2050.
(11) Burj Drop
Imagine you are a window cleaner in the world's tallest building doing your daily job and one of the cables break. Feel your heart race as you try to get out of this alive.
The other fun-filled experiences are:
(12) Beat Saber
(13) Hologate
(14) Robocom VR
(15) Black Badge
(16) Para Drop
(17) Sphere
(18) Holocube
(19) XD Dark Ride
(20) Play Zone
(21) VR Maze
(22) We Play
(23) Virtual Rabbids
(24) Arena - AR 1
Things that you should know prior VR Park visit:
1. Entrance Ticket
- We recommend booking the tickets through us, As it would only cost you AED 75. If booked directly from VR Park or paid at the counter the cost would be AED 165! Book with us and save AED 75 instant
2. Age Restriction
- There are no specific age restrictions for entry, Although there are different height restrictions for each ride with 110 cms being the minimum required height for most rides so if you're traveling with infants or kids, you might want to check out the available options before you purchase your ticket
3. Opening Time
- The park is open Sunday to Wednesday from 11:00 am to 11:00 pm and Thursday to Saturday from 10:00 am-1:00 am
4. Address
- Level 2, Dubai Mall, Dubai Downtown
5. Parking
- Dubai mall offers free parking. The nearest parking spot to VR Park would be "Cinema Parking"
6. Food & Beverages
- Food and beverages are not allowed on any of the attractions. Feel free to step out of the VR Park and visit the restaurants nearby
General Health & Safety Measure:
Temperature checks are required prior to entry

Wearing a face mask is mandatory

Sanitize your hands using the sanitizers provided

Buying tickets online is required

Keep a social distance of 2 meters apart

Contactless payments are required

Families are allowed to sit together (a maximum of 4 people)

Social distancing will be maintained inside the floors

Please stand on the sticker placed on the ground when queuing

Age limits stated by authorities will be applied, and our staff may need to verify the age by seeing your Emirates ID card

Compliance with the stated safety measures is legally required in all areas within VR Park

Please follow the supervisor instructions at all times
Precautionary Measures:
30% of the full capacity only will be admitted to the site

No more than 4 persons are allowed per each activity/game

Rigorous & regular sanitization and clearing routines at all touchpoints (including all touchable surfaces & items)

Touchless Hand sanitizers are available.

All items & tools which used as part of activities/games are sanitized after each use

Ride surfaces, seats, belts are sanitized after each use

VR glasses are sanitized after each use

Staff will be wearing masks & gloves at all times

Staff are subjected to regular temperature check

Staff maintain a high level of personal hygiene

All used cleaning & sanitization materials are approved by Dubai Municipality
We recommend you to buy VR Park tickets from us. Our ticket provides 4 hours of unlimited rides. To know more details about our ticket click on 'VR Park tickets'.